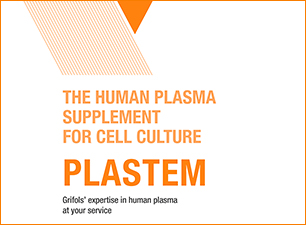 Human Plasma Supplement for Cell Culture – PLASTEM®
Download a brochure about PLASTEM®, a product developed by Grifols to overcome the limitations of current products used to supplement cell culture media.
EMA. 30 May 2013. Guideline on the use of bovine serum in the manufacture of human biological medicinal products. EMA/CHMP/BWP/457920/2012 rev 1. Committee for Medicinal Products for Human Use. European Medicines Agency.
Rodríguez-Pizà I, Richaud-Patin Y, Vassena R, et al. Reprogramming of human fibroblasts to induced pluripotent stem cells under xeno-free conditions. Stem Cells. 2010 Jan;28(1):36-44.
Díez JM, Bauman E, Gajardo R, et al. Culture of human mesenchymal stem cells using a candidate pharmaceutical grade xeno-free cell culture supplement derived from industrial human plasma pools. Stem Cell Res Ther. 2015 Mar 13;6:28.
---
The information contained in these webpages are intended for a professional audience of pharmaceutical and in vitro diagnostic manufacturing personnel.