Grifols: High-quality service and expertise
Pharmaceutical and biotech manufacturing processes need the best product excipients, drug carriers and culture media. That's because only top-quality plasma products contribute to excellence and success. Currently, a significant number of products require albumin for these purposes.
Grifols: Plasma quality from donor to finished products
Our human serum albumin (HSA) is manufactured from plasma originating in our US-based FDA and EMA approved plasmapheresis centres, conforming to cGMP, IQPP of the Plasma Protein Therapeutic Association (PPTA) and fulfilling additional requirements set by Grifols.
Production processes and facilities are certified according to the US FDA and EU regulations
Pasteurised, high-purity albumin solution
Grifols Human Albumin is licensed according to both USP and EP requirements
Grifols: Experts in worldwide product registration
Regulatory requirements are increasingly more stringent and consequently the process of registering biological products is particularly complex.
As a manufacturer of biological products that are registered in many countries, at Grifols we offer you valuable expertise in regulatory compliance around the world.
We can offer a single human serum albumin (HSA) product that complies with the regulatory requirements of multiple health authorities, allowing our customers to streamline the regulatory process.
Let us help you overcome all obstacles standing in the way of a smooth product registration around the world.
Grifols: A partner you can count on
Grifols expert service guarantees our commitment to assist your regulatory staff in order to achieve product registration:
Providing documentation, such as our annually updated Plasma Master File, albumin registration data and technical support
Offering assistance in meeting with health authorities such as the US FDA and EMA, and adressing questions that might arise related to our human serum albumin (HSA)
Up-to-date registration and assistance to comply with each country's requirements moving forward
Scalability
Grifols has more than 300 licensed collection centers located in the US and Europe and 4 fractionation plants located in:
Clayton (North Carolina, US)
Los Angeles (California, US)
Barcelona (Spain)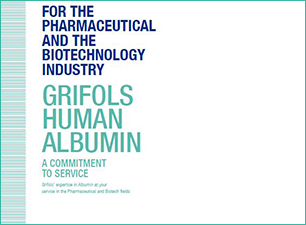 Albumin as an Excipient - Grifols Human Albumin Brochure
Download a brochure about Grifols Human Albumin for the pharmaceutical and biotechnology industries. Discover albumin functions, usage and much more.
Learn more about our high-quality products and partner services.
Contact us today and we'll gladly answer any questions.
---
The information contained in these webpages are intended for a professional audience of pharmaceutical and in vitro diagnostic manufacturing personnel.